May '11
CD-release "CINTA", 2011
"A tribute to Jazz & Keroncong,
dancing together on a plaiting
of their rhythms and tones,
creating their own unique sound."  © A.Montan
The CD "CINTA" is released in the Bintang Theatre at the Tong Tong Festival 2011, The Hague.
Before the release the Duo played live on the national Radio 1 en Radio 5 and got airtime in Hotel Central on Radio 6.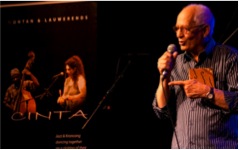 At the releaseof the CD, on the 26th of may 2011, George Dankmeyer received the first copy.
CD "CINTA"  ("Love" in Indonesia) is a special mix of east and west, of Asian and western scales & rhythms: the product of two quirky musicians.
Patrick plays the  basspart as well as the harmonic part, on acoustic and electric bass. The voice floats above this, where Anna adds little subtile percussion instruments, also pentatonic gambangs. Everything in double function.
read more, interview De Sobat, 2011
read more, review Radio 6 Mattie Poels